BY OUR DEPARTMENT
Lectures & Seminars for Students
Lectures
Introduction to Work Psychology (winter semester)
Influence of work on personality; local value of work for the human being
Deprivation of work: psychosocial censequences of unemployment
Thinking and work: On the theory of action of working
Learning of skills and training
Errors, safety, accidents and prevention of accidents
Deformation of personality: stress at workplace and psychosocial health
Consequences of shift work and configuration of labor time
Work-motivation
Analysis of work & analysis of work-situation
Work-design
Work-design: applied examples
New technologies and work
Introduction to Organizational Psychology (summer semester)
Structure and dynamics of organizations
Scientific-management-approach
Classical theory of organization by Weber
Human-relations-approach
Consensus-model
Behavioral-scientific model
A global theory of organization: systems theory by Katz and Kahn
Dimensions of description of organizations
The Individual and the Organization
Selection and positioning of members of an organization
Personnel appraisal of an individual within organizations: Personnel appraisals and measurement of performance
Organizational entry and socialisation within the organization
Connection between the individual and the organization: attachment, identification with the company, fluctuation, absenteeism, commitment, alienation
Ownership-relations and their influences
Power, participation
Micro-politics
Employee ownership
Applied organizational goals
Customer focus (Peters & Waterman)
Newer management-models: lean production
Value shift
Culture and Organization
Organizational culture
Differences in cultures and organizations (e.g. Japan, problems in Third World)
Group
Norms and cohesiveness
Advantages and disadvantages of group performance, problem solving and innovation
Teamwork, quality circle
Conflicts and negotiation, minorities, innovation
Leadership in Organizations
Changes within Organizations: Organizational Development
Diagnostics of organizations
Personnelistic approach
Situative approach
The lectures are provided in english and german alternately. It is possible to acquire a certificate of participation in the english presentation of the lecture, preconditioned that you participate constantly.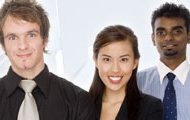 Related Links
No related documents
PROF. FRESE
NEW APPOINTMENT
Prof. Frese has left University of Giessen to work at University of Lueneburg and National University of Singapore.

You can still download his articles under the link below.
LINKS
LATEST PUBLICATION BY OUR TEAM
TITLE
Focus on opportunities as a mediator of the relationships between business owners' age and venture growth
JOURNAL
Journal of Business Venturing
LATEST PRESENTATION BY OUR TEAM
TITLE
Die Paradoxie des Innovation Championings: Wenn Handeln und Kontext im Widerspruch stehen
DATE
September 2009
VENUE
6. Tagung der Fachgruppe Arbeits- und Organisationspsychologie der DGPs, Wien