FURTHER INFORMATION
News Archive
01.12.2007
Looking for student assistant
The Department of Work and Organizational Psychology seeks a new student assistant. Starting date will be January 2008. The responsibilities include the administration of the internet homepage as well as service and maintenance of the department's IT (e.g., server administration, software, hardware). To apply, please contact Dipl.-Psych. Michael Gielnik.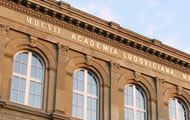 Related Documents
No related documents
PROF. FRESE
NEW APPOINTMENT
Prof. Frese has left University of Giessen to work at University of Lueneburg and National University of Singapore.

You can still download his articles under the link below.
LINKS
LATEST PUBLICATION BY OUR TEAM
TITLE
Focus on opportunities as a mediator of the relationships between business owners' age and venture growth
JOURNAL
Journal of Business Venturing
LATEST PRESENTATION BY OUR TEAM
TITLE
Die Paradoxie des Innovation Championings: Wenn Handeln und Kontext im Widerspruch stehen
DATE
September 2009
VENUE
6. Tagung der Fachgruppe Arbeits- und Organisationspsychologie der DGPs, Wien