BY OUR DEPARTMENT
Lectures & Seminars for Students
Practitioner Seminars
Whereas the theoretical basics are communicated in the lectures and regular seminars, where you can get certificates, additional practice oriented events are provided by visiting lecturers. Mostly these Practitioner seminars take place on weekends in the form of blockseminars. Normally there are five to six visiting lecturers per semester, in which applied skills are communicated from a practitioner's point of view and worked up theoretically. Usually it is not possible to acquire regular certificates (exceptions from that will be marked in a notice on our bill-board). Instead the participants will get a certificate as a proof of participation named "Praxisqualifikationszertifikat".

Examples for Practitioner seminars are:
Directmarketing
Intercultural comparison of strategies for the development of leadership
Practice of personnel selection in industry and administration
Training in social competencies
Moderation of groups
Organizational-psychological practical applications
Conflict management
Fields of activity in HR consulting
Wholistic strategies for alteration in organizations
Practical questions of organizational psychology
HR strategies: practical applications
International personnel management
New concepts of career in companies
Advertising psychology
Systematic consulting
Strategical HR-management
Evaluation of HR
Systems for personnel selection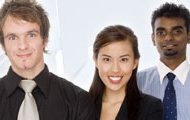 Related Links
No related documents
PROF. FRESE
NEW APPOINTMENT
Prof. Frese has left University of Giessen to work at University of Lueneburg and National University of Singapore.

You can still download his articles under the link below.
LINKS
LATEST PUBLICATION BY OUR TEAM
TITLE
Focus on opportunities as a mediator of the relationships between business owners' age and venture growth
JOURNAL
Journal of Business Venturing
LATEST PRESENTATION BY OUR TEAM
TITLE
Die Paradoxie des Innovation Championings: Wenn Handeln und Kontext im Widerspruch stehen
DATE
September 2009
VENUE
6. Tagung der Fachgruppe Arbeits- und Organisationspsychologie der DGPs, Wien