ABOUT OUR DEPARTMENT
Alumni
Matthias Glaub
"It was great doing my thesis in Africa and accomplishing the project from the first concept to the final results on my own. That was a challenge - but very instructive.
When I think about it, the entire studies at the department of work and organizational psychology were challenging. Lectures in English, a lot of content in the lectures, but in that way it helped me to get accustomed to my job faster after my studies. As a human resource manager I could apply a lot of the things I learned at the department of work and organizational psychology.

And I can only repeat it; my thesis was a great experience. In Africa, things are a bit more disorganized than in Germany. But the experiences I made in setting up and managing a project there are very helpful for my current job. In that way my studies were a very good preparation for my job."
Diploma: 2004
Degree received: Diploma
Current Institution: DB Netz AG - Referent für Führungskräfteentwicklung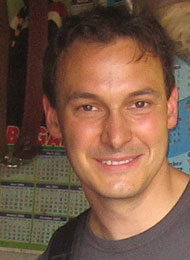 Related Links
PROF. FRESE
NEW APPOINTMENT
Prof. Frese has left University of Giessen to work at University of Lueneburg and National University of Singapore.

You can still download his articles under the link below.
LINKS
LATEST PUBLICATION BY OUR TEAM
TITLE
Focus on opportunities as a mediator of the relationships between business owners' age and venture growth
JOURNAL
Journal of Business Venturing
LATEST PRESENTATION BY OUR TEAM
TITLE
Die Paradoxie des Innovation Championings: Wenn Handeln und Kontext im Widerspruch stehen
DATE
September 2009
VENUE
6. Tagung der Fachgruppe Arbeits- und Organisationspsychologie der DGPs, Wien